EVOLUTIX SOLUTIONS: MULTI-FAMILY
Multifamily buildings offer a largely untapped opportunity for improving energy efficiency. Despite tremendous potential for savings, the multifamily market is hard to penetrate due to complex ownership structures, utility bill payment responsibilities, split incentives and lack of capital for upfront costs.
According to a widely-cited study, energy efficiency improvements of 30% are both achievable and cost-effective across the multifamily housing sector. If all such measures were undertaken, this could drive annual utility savings of $9 billion by 2020.
Tenants are responsible for the bulk of a multifamily building's energy use. After all, plug loads, lighting, and HVAC in tenant spaces often account for 60 percent or more of a building's total energy use. The actions of your occupants also impact how the building's systems run, the individual apartments are vacant a great deal of each day – often as much as 60% of the time – which affords great opportunities to save energy without affecting comfort
Annual Potential Savings form Multifamily Buildings by State
at 15% electricity and 30% natural gas efficiency imptovement
To keep multifamily properties on pace with trends and expectations from residents, it pays to invest in the latest technology that offers the ability to monitor and control things remotely and deliver, comfort, convenience and amenity in apartments. This is important to woo the Millennial residents as well as Seniors who are downsizing and want technologies that accommodate aging in place.
The Solution Evolutix offers to help owners and managers attract these residents includes
Both are well proven solutions which have collectively they've been installed in more than 650,000 units in over 1200 facilities. Although each system is offered individually, miraculous things happen when the two solutions are integrated and combined for maximum value and benefit, with the EvoPad Resident Engagement platform. (insert links to sections offering further information).
Why Technology?
Because it really makes a difference, especially for older multifamily property that need a refresh, or full-scale remodel. A little luxury can go a long way andinvesting in luxury touches can net a big win by drawing renters who want an affordably luxurious apartment.
Combining the EcoSmart and Vertilinc solutions with the EvoPad truly brings synergy, because it offers substantial energy savings and revenue generation potential and offers comfort, convenience and amenity – using one seamlessly integrated solution that also offers opportunities to improve operational effectiveness of the property and squeeze operating profits that enable owners to keep multifamily rentals affordable for the middle-class. This is particularly valuable since so much of recent construction has been targeted at the luxury segment, which is leaving the middle-class squeezed out of luxury rentals – targeting them virtually ensures you a steady stream of interested renters ready to snap up any vacancies.
Cutting-edge Technology Sells – Reboot your property by offering solutions that allow tenants to personalize the apartment technology with smart thermostats and customizable entertainment packages. This way, tenants can design the technology environment they want by pre-selecting from your choices.
The Technology Conundrum:
Technology is a relatively simple way to offer a lot of amenity and an efficient way to share that amenity with all users but how to best deploy cutting edge technology?
Evolutix can help you "reboot" your property by offering solutions that allow tenants to personalize the apartment technology with smart thermostats and customizable entertainment packages. This way, tenants can design the technology environment they want by pre-selecting from your choices.
What are the right investments in technology? What amenities, services and technology will make meaningful improvements in the 'quality of life' of Residents and their guests. What are the best ways to engage with the residents? How will we fund those improvements? What technologies will get residents talking about the features and amenities amongst their fellow residents, family members and prospective future residents.
Evolutix works with clients to answer these questions and then goes to work to develop projects and present turnkey solutions. With the right projects, if desired we can even structure payment plans where project costsare paid for by the savings.
Owners say they like the Feature Rich and Future Proof Amenities that the EvoPad Resident Engagement platform delivers, but what they like best is the Persistent Reductions in Energy Use and Operating Costs!
Energy Management: we typically recommend installing an energy management system and make it the foundation platform of the room automation project. By controlling the HVAC system, we typically see projects that pay for themselves in 2-4 years just in energy savings, faster if we include other savings such as operational staff efficiencies, participation in demand response programs or avoided capital costs associated with other technologies that can communicate over the EcoSmart network that don't need dedicated networks (e.g. electronic door locks, safes, mini-bars, lights, etc.).
For Multi Family clients the Energy Management foundation can be enhanced with our most recent innovation, the EvoPad Resident Engagement platform – it integrates the latest in smart home technologies into a single responsive platform, enabling smarter living environments and healthier lives, while also fostering family and community engagement for residents.
EvoPad is a simply elegant, yet powerful interface that is at the heart of the intelligent living environment for multifamily buildings. EvoPad lets residents control absolutely everything they need to enjoy a modern, independent and self-determined life, straight from any mobile device (iOS/Android Smartphone or tablet) – anytime and anywhere, all with a touch or swipe of the screen.
Residents can control their apartments, stay connected with loved ones through photo sharing or video chats, and stay more engaged in community activities through event and activity calendars and newsletters.

The EvoPad Resident Engagement Platform

is a comprehensive solution that is modular and can be deployed as independent elements or integrated solutions, the base system can be enhanced/expanded over time as needs and funds dictate.
EvoPad benefits operators of Multifamily communities by allowing them to provide the best in care and hospitality with value-added amenities, while increasing revenues and lowering costs.
Revenues increase from uptake in revenue producing services, and the platform offers potential for advertising and promotion.
Reduction in operating costs from energy savings, reduced downtime, improved system efficiency, data, tools and information to streamline staff and much more.
Increased Net Operating Income and Increased Property Valuation.
The "Base" system is the energy management as it creates the most compelling ROI and creates the ZigBee communications backbone for the other technologies to communicate over. This way these sensors and controllers do not in any way detract from your WiFi system.
Evolutix:
Delivers solutions that quickly pay for themselves through
Persistent Reductions in Energy Use and Operating Costs!
At minimum, the Base system controls the Heating, Ventilation & Air Conditioning (HVAC) system, which typically yields a project that pays for itself in reduced energy use in approximately 3-years. The Base system can be enhanced to include Control of in-room Technologies such as Lighting, Shades &Drapes, Integration of electronic door-locks, Television, Video Intercom, as well as integration with revenue generating Facility Services (event schedulers, service requests, ticketing systems, messaging, restaurants, gyms, spas, etc.) as well integration with other amenities, such as Learning Management Systems, or Digital Bulletins, Activity Calendars and Menus, Music, Movies and so much more.
The Base System is designed to offer amenity and convenience when the Resident is at home, and save energy when the rooms are vacant. It generates an attractive ROI and controls energy use only when the resident is not home, and thus saves money without affecting the resident's experience.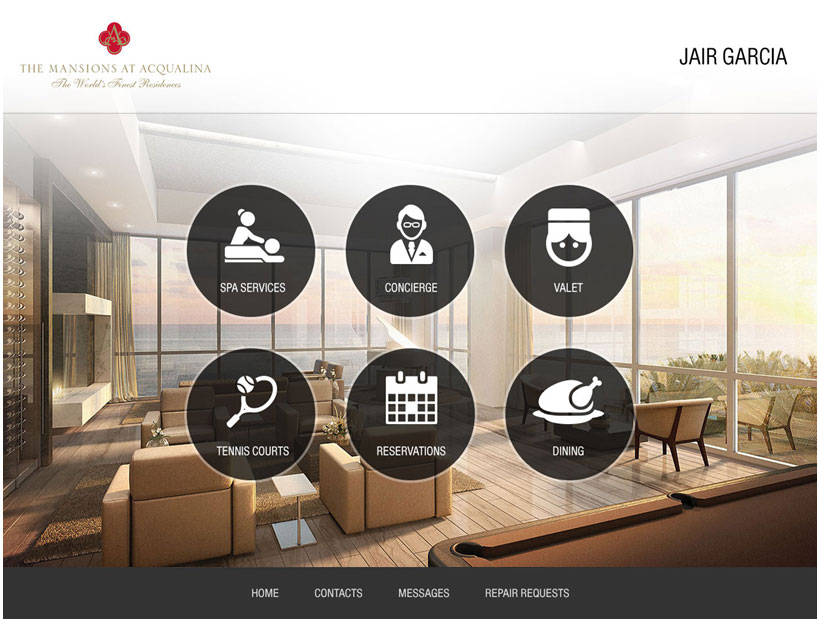 Impact on Valuation

Building owners who invest in the combined Evolutix package can substantially increase property value by:
1. Increasing net operating income (NOI), with increased revenue from EvoPad derived uptake in revenue generating services and potentially lucrative advertising and promotion opportunities as well as possible rent-increase opportunities afforded by the differentiation opportunities.NOI is also positively affected by the reductions in operating expenses from energy savings and improved operational effectiveness of staff.
2. Decreasing the capitalization rate (cap rate), which is the ratio of NOI to property asset value. The cap rate is the anticipated risk-adjusted return used by real estate professionals to measure the relative worth of a building's cash flows. Energy efficient buildings and particularly buildings that pursue certification through the LEED rating system may benefit from decreased cap rates because they're viewed as lower risk investments.
When NOI increases the property value improves, when building efficiency improves and energy and operating expenses go down. These improvements also offer the opportunity to make lease improvements since tenants maybe more willing to pay more for a more efficient and greener building, particularly one with all the life enhancing amenities included in the EvoPad solution.

You can reduce your operating costs, increase your properties' asset value, and meet the demands of tenants for environmentally responsible housing options. How? By making your multifamily housing properties more energy efficient.

Source: Energystar.gov
Working with Developers of Owner Occupied Real Estate

Since the real estate collapse in 2009 the way condominiums and owner occupied real estate are acquired, developed and financed has changed a lot. We remember those days very well. When it comes to securing condo construction financing in today's lending environment presents new challenges…
READ MORE

to developers and the investors backing the new condo development. The challenges can be overcome but they require a new way of thinking and finding creative solutions.
In years past, prior to bubbles bursting and markets collapsing, developers often found that satisfying the needs and wants of their institutional lender and their individual investors was challenging but workable. Lenders accepted moderate minimum presale deposit amounts and investors became limited partners with modest expectations as to the decision rights that the various loan and governing documents would provide them. Developer renderings of proposed projects depicting soaring buildings with gleaming windows and resort-like amenities enticed investors, excited lenders and invited buyers. The opportunities to shape the skyline were endless. But all that has changed significantly.
Evolutix works with developers to create base packages that include the cost of the network and HVAC control, perhaps electronic locks and a minimum number of Vertilinc features, but much of the capital cost for the control of other technologies such as
We work with the Sales Office and develop presentations for a small plasma/LCD screen or for multiple screens to deliver a life-sized experience. The sales agent can then demonstrate the and go through the presentation or a handheld device can be used to control the visual experience and put the prospective buyer in control. In addition, complete interaction with sound and lighting scenes can be integrated into the presentation to deliver a totally immersive experience for your customers showcasing the competitive advantages of the developer's project.
Our commitment to the success of the developer's project starts when prospective buyers enter the sales center. Through the use of our technologies and systems integration expertise, we are able to deliver an unparalleled customer experience for your clients.
Our sales center technologies include:

Interactive signup kiosk, to capture customers' information through a card reader when they walk into the sales center
Interactive video-wall, with 9 or more plasmas controlled by a handheld touchpanels
Interactive sales presentation in 50″ touchscreen plasma
Interactive Virtual Reality
Motion detection interactive sales center experience
And much more
Here is a sampling of what developers have said about Vertilinc

"The technology is really cutting edge and the customer service couldn't have been any better. We worked on this together and accomplished an excellent Sales presentation that really blew everyone away. It is amazing how it simplifies things for our sales agents as well as our buyers. Right now, all the agent has to do is to guide the prospective buyer through our touch panel presentation and show them all aspects of the project. The prospect can now look at floor plans, amenities or even individual residence views all in one clean easy-to-use presentation."

Moe Charif – CABI Developers

We had our first Broker event consisting of approximately 125 realtors / brokers various at the Grand Opening of our sales office and community and it was a big hit. The touch screen technology aspect stole the show. We heard several positive comments such as: "This is so user friendly…" or "Wow, how cool is this… look how easy it is to compare different styles." Our community representatives have embraced this technology to make what was a seamless presentation process even more compelling. Prospective home buyers are also finding it fun, informative, interactive and easy to use. This technology will be key factor for our communities' sales growth as we are still months away from completing actual models. On a side note, the aspects that most excites me, is the ability to be able to update our presentations within a continuous 15 min. timeframe. Great Job and thank you for developing such a great and uniquely compelling concept for today's real estate market.

John Norkeliunas, Sales Director, Artesia, Naples